About GR&J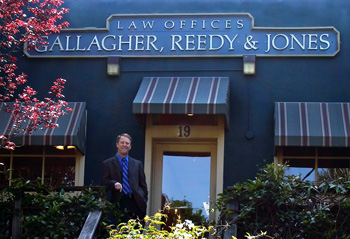 The law firm of Gallagher & Reedy was formed in 1976 by Daniel Gallagher and Randall D. Reedy, two law school classmates from the University of Santa Clara. The firm began by doing primarily criminal defense work and marital dissolution matters, but after several years evolved into a business and real estate litigation and transactional firm. The firm's early clients were primarily local businesses and real estate clients from Los Gatos and the West Valley area of Santa Clara County. As time went on, the clientele expanded to real estate and business matters encompassing San Jose and the San Francisco Bay area.



After the untimely death of Dan Gallagher in 1984 following long illness, Michael Jones joined the firm after graduating from the University of Santa Clara Law School. Three years later, his sister, Rebecca Sue Jones, another Santa Clara Law School graduate, joined the firm and the firm became known as Gallagher, Reedy & Jones. In 1988 Michael S. Bays, a long time Los Gatos tax attorney, joined the firm and has remained with the firm to the present day.
The 1989 Loma Prieta earthquake severely damaged the building located at 19 N. Santa Cruz Avenue, Los Gatos, and the firm relocated to the downtown Willow Glen area of San Jose. The temporary quarters were tight, having eight people including attorneys and staff, in approximately 800 sq. ft. However, the loyal clientele of Gallagher, Reedy & Jones made the adjustment to the Willow Glen office while Mr. Reedy worked on rebuilding the office in Los Gatos. In October of 1990 the building earthquake retrofitting and restoration was completed and the attorneys and all personnel returned to Los Gatos where it has remained.



The firm currently represents a number of local businesses including restaurants, building contractors, physicians, graphic artists, a variety of shops and other trades, businesses and families. On four separate occasions, the citizens have voted Gallagher, Reedy & Jones, and in particular Randall D. Reedy and Rebecca Sue Jones, as the most outstanding lawyers in the Weekly-Times poll. The clients of the firm are loyal and many have been with the firm for the 30 years of its existence.



The addition of Michael Jay Jones and Rebecca Sue Jones in the '80's bolstered the areas of traditional estate planning, family law and business litigation and the addition of Michael S. Bays in 1988 rounded out the broad range of family partnerships and business legal services, including tax law.



In May, 2006, the firm celebrated its 30th anniversary and based on its reputation for service, honesty and loyal community support, it is expected that Gallagher, Reedy & Jones will continue to serve Los Gatos, Santa Clara County and surrounding communities in the Bay Area for many years to come.